What is Defensive Driving?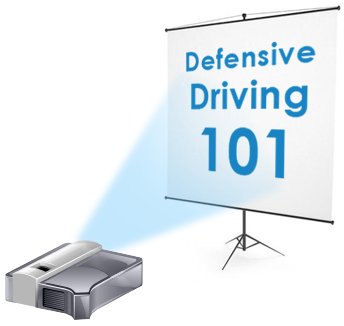 If you have a driver's license and auto insurance policy in Delaware, there is a good chance that you have heard about defensive driving courses. By taking one you can earn an auto insurance discount, a Delaware driving record point credit, and, save your license from suspension. Being a defensive driver, however, is about more than saving money or protecting your driver's license; driving defensively is about saving lives.
Click here to see Delaware's Annual Traffic Statistical Report.
Each and every time you get behind the wheel, you are putting yourself, your passengers, and the other drivers on the road at risk. Defensive driving courses have been created to help increase your safety and your chances of arriving at your destination in one piece.
The Purpose of Defensive Driving in Delaware
While some drivers only take defensive driving in Delaware for the monetary benefits, that is not the purpose of the programs. In an effort to decrease traffic accidents, injuries and fatalities, the Delaware defensive driving option was created. Originally available solely in a classroom setting, the course was designed to re-educate Delaware drivers in the art of driving defensively. By refreshing traffic laws and learning new safe driving techniques, these programs give drivers all the tools they need to increase their safety and decrease the chances of a collision. By taking the steps to become a better, safer driver, graduates of defensive driving in Delaware benefit in multiple ways.
The Benefits of Defensive Driving in Delaware
Learning to navigate Delaware's roads more safely by attending a defensive driving course is a great thing, made even better by the rewards of doing so. Completing a Delaware defensive driving course can award you the following benefits:
An auto insurance discount of up to 15%
A three point Delaware driving record credit
Protection from the loss of your driving privileges
A newfound confidence behind the wheel
There are three different defensive driving programs in Delaware, and completion of each program will offer Specific Benefits for graduates. To learn more about how a course works and the rewards it offers, select it below:
How Online Defensive Driving in Delaware Works
Online Defensive driving in Delaware is easier than most people assume. In just a couple Easy Steps, you can be done and on your way to reaping some great rewards. If you have already decided to complete the program online, you are on the right track! Ever since online courses in Delaware were Approved they has become the most popular format. Completing our online course is easy:
Sign Up for the course. This can be done Online or Over the Phone at anytime, 24 hours a day.
Complete the program. You'll get to work from the comforts of your own home, at your own pace, around your own schedule. It's Fast and Easy!
Receive your Completion Certificate. This is your proof of completion. Once you have it you're done!
Most people are surprised at how easy it is to finish an online defensive driving course. In just a few hours you can be on your way to saving hundreds on auto insurance, cleaning up your Delaware driving record, and driving in a much safer way!
What You Learn in Delaware Defensive Driving Courses
Delaware defensive driving programs will teach you everything you need to know to protect yourself and others on the road. Learn to avoid traffic tickets, keep your auto insurance rates low and your Delaware driving record clean! Some of the topics covered in defensive driving courses include: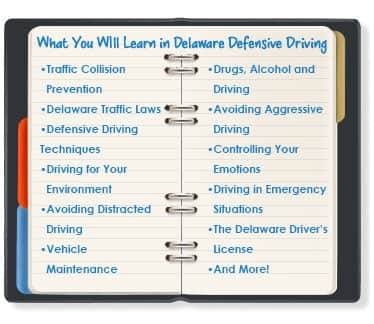 Get Started
Now that you understand what defensive driving is, how you'll benefit from it, and what you'll learn, you probably can't wait to start a course. It's a good thing that we happen to offer all three of the programs you might need for defensive driving in Delaware! Enroll Now to get started on the road to lower auto insurance rates, a cleaner Delaware driving record and continued driving privileges!