Delaware Defensive Driving Benefits
Completing a Delaware defensive driving program can be very beneficial. By choosing to improve your safety on the road by completing one of these Courses, you are setting yourself up for some great things. Depending on the program that you select, you may receive an auto insurance reduction, a point credit, or, even protect your driver's license from suspension. Whichever one you take, however, each course offers benefits that far outweigh the effort required to complete our Fast and Easy programs.
The Benefits of Defense Driving in Delaware
Before you enroll in a Delaware defensive driving course, you should know about all of the great benefits you will receive after completing one:
Receive an auto insurance reduction of up to 15%
Get a 3 point credit on your driving record
Protect your driver's license from suspension to dismiss one of the violations
Become a better, safer driver
Delaware Insurance Reduction
With the exception of the Aggressive Driving program, completion of any of the other Delaware Defensive Driving Courses will grant you an auto insurance discount. This Delaware insurance reduction is mandatory, meaning that your insurer is required to grant you these savings. Upon completion of a Basic 6 Hour Defensive Driving Course you will receive a 10% discount that will last for three years. 90 days prior to the expiration of this discount, you can begin completing the 3 Hour Refresher Course. You will have from 90 days before expiration of your discount until two years after it expires to complete this course. If you do so within this timeframe, your Delaware insurance reduction will increase to 15% for three more years. This can be repeated every three years for continuous savings. If you fail to complete the refresher course within the proper timeframe, however, you will be required to start over with the basic 6 hour course. According to the Delaware Department of Insurance Instant Auto Insurance Guide, completion of a Delaware defensive driving program is one of the easiest ways to lower your rates.
Delaware Driving Record Point Credit
Completion of the 6 hour or 3 hour courses will also grant you a three point credit on your Delaware driving record. This is extremely helpful because the Delaware point system has penalties for those who receive an excess of points. The Driver Improvement Problem Driver Program, designed to "identify problem drivers, to change the problem driver's behavior," uses the Delaware point system in determining which drivers are in need of disciplinary action. Points are added to your driving record every time you receive a traffic citation. Point values for the most common violations are:
The Delaware Point System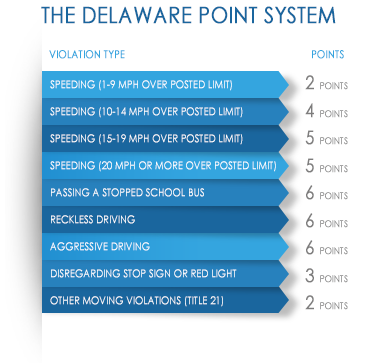 Point totals are calculated based on a period of 24 months. Each point carries its full value for the first 12 months after it is received, then drops to half value for the next 12 months. If your point total reaches 8 or more points, disciplinary actions may be enforced. These include:
In order to avoid these consequences, you should take every precaution to keep your point total low. This includes driving defensively and completing a defensive driving course to receive a three point credit. Just like the Delaware insurance reduction, this three point credit can be renewed every three years.
Protect Your Drivers License
If you have been ordered to fulfill a behavioral modification/attitudinal-driving requirement, completion of our Aggressive Driving course will protect your driver's license from suspension. Simply make sure to complete the program within 90 days of your conviction date and your license will remain valid. By taking our 6 hour or 3 hour course while your license is in good standing, you can earn a three point credit that can prevent your point total from reaching a level that requires disciplinary actions. Additionally, the lessons learned throughout our defensive driving courses will help you avoid receiving traffic citations in the first place. Our simple, interactive courses are much easier than living without a valid driver's license.
Defensive Driving Knowledge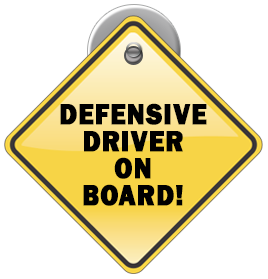 Last, but most certainly not least, completion of Delaware defensive driving program will give you all of the knowledge required to drive in a safer, more confident way. You'll learn invaluable Defensive Driving Tips that will help keep you safe in all driving conditions. Who knows, the lessons learned in these courses might save your life one day; what could be better than that?
Ready to Receive These Great Benefits?
By now you must have realized how beneficial completing a Delaware defensive driving course can be. Secure an auto insurance reduction of up to 15% and get a three point driving record credit, or, protect your driver's license from suspension, all while learning to become a better, safer driver! Simply Sign Up today and you'll be ready to reap these great rewards in no time!